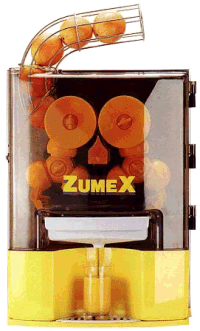 Zumex are the industry renowned, visually stunning citrus juicers which consistently deliver top quality juice again and again, as well as giving the customers something magical to watch whilst they wait. It's no wonder that Zumex is the number once choice for countless cafes and juice bars.
If you're considering a zumex juicer for your business, you might want to consider eBay. Yes, I said eBay.
You will have noticed that Zumex Juicers are are not cheap. In these tough economic times, getting a bargain is important so why not consider a used juicer? Because of the build quality, don't be afraid to buy a used Zumex juicer - these things are made to last.
Here's a link to eBay which will display all current Zumex juicers. They regularly come up and you get grab a great bargain.