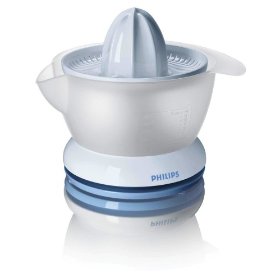 A point I've made several times elsewhere on the site is that one of the most popular types of juice is orange juice, but the centrifugal juicers aren't really great for orange juice because peeling them is such a pain, especially if they've been in the fridge which you'd want to do for a nice cold drink.
So this is where expensive juicers take a step back and instead look at the humble citrus press, and in the Philips HR2737 we have a fantastic bit of gadgetry which you should be able to pick up for about a tenner.
Take your citrus fruit - orange, grapefruit, lemon etc - and simply cut it in half. Place it down on top of the citrus press's reamer and the Philips HR2737 springs into life, rotating and bringing juice gushing out to be collected below. Lift off and the citrus press stops. Reapply pressure and it turns in the opposite direction to ensure you get all the goodness.
Once you've tried it you'll be embarrased you ever bought orange jucie in the shops. Keep this on the side and some oranges in the fridge and you have a healthy, tasty start to every morning. It's no suprise that this citrus press is consistently given the 5 star rating at Amazon - it's really excellent.
And with Christmas coming, this is a perfect stockingfiller juicer for if you're looking for a healthy gift idea that won't break the bank.
Buy It From Amazon UK: Philips HR2737 Citrus Press